The second floor of The Suite Spot offers office suites under an six- month lease for those who have a need for dedicated office space. Each office is a private, secure work environment and a blank slate for businesses to furnish their own space to their liking. Internet service is included.
The Goal of the Suite Spot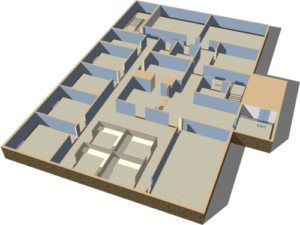 The Suite Spot business incubator office spaces are for businesses who will use the space as their primary means of business on a regular basis. The goal is fill the space with tenants who are actively using their space with the intent of growing their businesses so they can move to new office space being added to the downtown area over the next couple of years.
Business Types and Exceptions
Businesses such as counselors, tutors, accountants, insurance agents, etc. that have a business primarily for services clients that regularly need to visit their office may find the Suite Spot does not fit their needs due to the building being locked 24/7 with no easy way for guests to gain access to the building when they arrive.
We would love to accommodate any type of business, but the truth is, the building just isn't designed to accommodate everyone's style of work. But for most, it's the ideal place to set up roots in Sugar Hill.